We here at Norwegian Morning Wood are big
SNL
fans. From the very early days to the present (ignoring a good chunk of the 80s) the program is an institution, always on the pulse of zeitgeist and has remained the springboard for the careers of some of the funniest people in Hollywood. It's such a panoply of talent that it attracts some of the biggest names in Politics and Entertainment to hose or even drop by for a quickie guest spot. It has maintained this in part due to the solid relationship (mostly) it has with some of the biggest names in show business such as Eddie Murphy, Adam Sandler and Bill Murray.
I do find it interesting however to critique the current brand of
SNL
product. Now firstly, I refuse to believe that it has lost its splendor. It is as least as bad as its ever been. There is however, a large portion of the cast without break-out potential, which may be detrimental to this run's overall success. There isn't really a player in the current line-up that deserves really big movie stardom. That said, they are all exceptional at sketch comedy. Thus we're in this situation that posits
SNL
as less of a springboard show and more of a genuine sketch comedy show.
Many of the current Featured Players have been on the show for some time now. It seems like it's tougher for them to break out (which is bizarre considering that the show has much greater exposure on Hulu and vH1 than it ever did before) or that they have no desire to. It's impossible to gauge their own desires but considering that many of them have appeared in middling to bad films there is always that goal that just isn't met right now. So, without adieu, let's go through the cast alphabetically:
Repertory Players:
Fred Armisen
Tenure:
2002 - Present (
Tied for 5th All-Time
)
Role on SNL:
Fred can play anything very effectively. He's extremely versatile. He can play almost any race from Moammar Gadafi to Barack Obama as well as characters ranging from
intense parody
to the
subtly outrageous
. He's also a ridiculous hipster.
Chances of Breaking Out:
They're decent, hes probably got the longest exposure of any cast member and appeared in tiny roles in movies as far back as
Eurotrip
(2004) and
Anchorman (2004)
. He hasn't really been able to sustain anything long-term though besides the awful IFC show
Portlandia
. That said, the fact that he has a sort-of successful show on another channel is the best indicator that Armisen may have the best chance at getting out of the current SNL.
Abby Elliott
Tenure:
2008 - Present
Role on SNL:
Abby is slowly moving this year from just being the cute young girl on the cast to some actually funny characters. Anyway, by now her role is really just filling female roles instead of anything exciting.
Chances of Breaking Out:
I just can't believe that
this
came from
Chris Elliot
's balls. It's a bit early to tell whether or not she's that much more than just a cute face but she's done nothing to immediately capture the nation's attention.
Bill Hader
Tenure:
2005 - Present
Role on SNL:
Bill is like Fred Armisen, he can play about anything. He's primarily a character actor, though and is able to throw himself completely into whatever zaniness is called of him. This is exceptional for a sketch comedy show. He's the closest
SNL
has right now to a male Glue.
Chances of Breaking Out:
Like I said, Hader is a character actor. He's been fantastic in movies like
Superbad
(2007),
Forgetting Sarah Marshall
(2008),
Tropic Thunder
(2008) and
Adventureland
(2009) but doesn't really have the chops to center a movie around his character. He's ready to break-out but needs a vehicle to prove his chops. Actually I think that he's such an impressionist and character actor that people have difficulty identifying with who he really is. Adam Sandler, Chris Farley and even Rob Schneider had these readily identifiable personal traits that audiences could reliably expect in a film, giving them popularity and anticipation. Can you name one significant personality trait of Bill Hader?
Seth Meyers
Tenure:
2001 - Present (4th All-Time)
Role on SNL:
Seth has been the Head Writer of
SNL
since 2006 as well as the Weekend Update anchor. He rarely appears in sketches outside Weekend Update these days but serves as an anchor to the show and provides some consistent tongue-in-cheek deadpan delivery in
SNL
's most traditional and remaining funny segments.
Chances of Breaking Out:
It's hard to say. He doesn't have the charisma of Tina Fey to turn his writing experience into a whole new show like
30 Rock
nor has he really seemed to have any intention of leaving. At this point his brand is more suited towards a talk show like Jimmy Fallon or otherwise some program similar to
The Daily Show
or Weekend Update. That said, I'm not sure why he would ever leave Weekend Update where he is comfortable to do something similar.
Bobby Moynihan
Tenure:
2008 - Present
Role on SNL:
Moynihan is terrible. He reminds me of a less funny Horatio Sanz who is fat but doesn't use it to his advantage like Belushi or Farley did. He can't center a sketch and is really a role player more than an anchor.
Chances of Breaking Out:
Moynihan will be like a Mark McKinney, Jerry Minor or already mentioned Horatio Sanz. You'll never hear from him again when he leaves, probably shortly. Tho he was in that
Colbie Caillat video
.
Andy Samberg
Tenure:
2005 - Present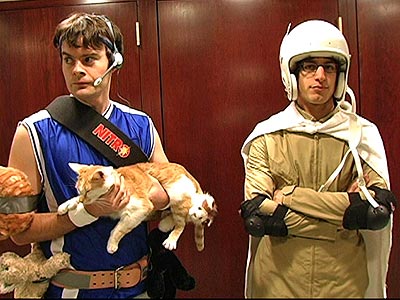 Role on SNL:
Oh Andy. In winter of 2005 during your freshman year we got so excited that
SNL
was funny again with "Lazy Sunday." Finally,
SNL
was cutting edge again, it was relevant again. For the next few years Samberg and The Lonely Island's Digital Shorts input was the single funniest part of the show. This is Samberg's role though, he's really much better at Saturday Night Taped, though his
impressions
and live role has gotten better.
Chances of Breaking Out:
The problem with The Lonely Island is that they can't carry their very specific brand of humour throughout a feature film. They failed with
Hot Rod
(2007) and
MacGruber (2010)
and it's tough to find a bigger outlet than where they are now. The thing is, Andy excels at quick, goofy music videos and spoofs. If he ever left
SNL
I doubt he would find success in much more than a Funny or Die account. He isn't that good of an actor to sustain anything longer but is intensely funny with stuff you don't have to think about. Five years ago I would have called out Andy for instant breakout success but I'm doubting him now.
Jason Sudeikis
Tenure:
2004 - Present
Role on SNL:
Sudeikis is strange on SNL. I feel like he's best as the straight man amidst Hader, Samberg and until this season,
Will Forte
. Like Hader though, he's really not that funny on his own and hasn't developed a very solid persona in his long tenure with the show.
Chances of Breaking Out:
I'm kind of torn here. He's been in more films recently,
Hall Pass
(2011) being the most significant, if middling one. I don't think he'll fade into TV guest spot hell like Chris Parnell but there's not a chance he attains Will Ferrell or Jimmy Fallon - level popularity. I could see him landing a long solid television gig like Phil Hartman did but he can't anchor a show like Phil. He's really not genuine enough, his humour has too many camera winks to ever land on something significant other than a sketch show.
Kenan Thompson
Tenure:
2003 - Present (tied for 7th All-Time)
Role on SNL:
Kenan has settled into a nice gig after some shaky starts but sometimes I still feel like he's playing at Nickelodeon level, yelling out
All That
characters. He's like a Tim Meadows - he's a black guy that doesn't necessarily play black all the time like Chris Rock and Eddie Murphy did. He has a great range and has a keen awareness for what's funny but he does tend to be awfully self-aware of his goofiness.
Chances of Breaking Out:
If
Good Burger (1997)
didn't do it, I'm not sure what can. That said, continuing with the Tim Meadows analogy, Kenan will stay on SNL a few more years then attempt to translate into movies, but I don't think he can actually pull off a role like
this
.
Kristen Wiig
Tenure:
2005 - Present
Role on SNL:
Kristen is the closet
SNL
has right now to a solid performer like Phil Hartman or Will Ferrell. She has the unique ability to make terrible sketches watchable. She's probably the most talented of the cast and tends to let the funny flow without pretension, winking or otherwise catering to anyone. She's the only woman on the cast that can have sketches effectively built around her and like Hader and Armisen can play just about anything.
Chances of Breaking Out:
Kristen is the female version of Bill Hader. She's already been in tons of very funny films like
Knocked Up
(2007) and
Walk Hard: The Dewey Cox Story
(2007) but other films like
Extract
(2009) and
MacGruber
haven't done that well. She's too much of a character actor to hold an entire film together but excels at the supporting roles.
Featured Players:
Vanessa Bayer and Paul Brittain
Tenure:
2010 - Present
Roles on SNL:
I grouped these two together because they serve the same purpose. Bayer is another one of the seemingly endless parade of women
SNL
has hired in an attempt to replace Rachel Dratch, Amy Poehler and Maya Rudolph but Bayer is much more likely destined to be a Victoria Jackson or Ellen Cleghorn. Brittain is also fairly innocuous, there is nothing distinctive about him besides his ability to play foreign guys. It's possible he steps into Armisen's shoes...but he can't play black.
Chances of Breaking Out:
None.
Taran Killam
Tenure:
2010 - Present
Role on SNL:
I didn't give this guy much credit at first but look at him keep up with Jim Carrey
here
. He's got an energy and fearlessness that is rare for a Freshman on this cast. It's early to tell but he could replace Forte as easy as he has in "
What Up With That
."
Chances of Breaking Out:
High I think, actually. He needs to pay his dues for a few years and fight for a spot once Hader and Samberg leave for terrible careers.
Nasim Pedrad
Tenure:
2009 - Present
Role on SNL:
Nasim is a babe. Besides that, she's doing slightly less than Abby Elliott is right now. None of these girls have the balls of Poehler or Molly Shannon or the self-effacing tendencies of Ana Gasteyer. While the early-2000s may have been the glory days for
SNL
women, it's a boys club besides Wiig right now. Nasim needs to prove her hilarity.
Chances of Breaking Out:
Porn?
Jay Pharoah
Tenure:
2010 - Present
Role on SNL:
Jay Pharaoh is a very funny guy. He's an incredible impressionist and was hopefully brought on to do a ridiculously good Obama impression along with Will Smith, Jay-Z and Denzel. He's a perfect plug for a sketch show to perfectly impersonate anyone (black) the show needs to.
Chances of Breaking Out:
The problem is that Pharaoh is excellent at impressions and stand-up. He can't turn into another Frank Caliendo where that's all his show is. Again, he's a perfect fit and fills a great role on
SNL
but it's tough to picture much of a career for him in movies or television after.
So that's my indictment of the entire cast. I believe they work well together and know how to play to each others' strengths to make a very effective sketch comedy show. In doing so however, they have negated almost all their chances at sustaining careers like Dan Aykroyd, Chevy Chase and Jon Lovitz among others. It's not that
SNL
is that less funny that it ever has been. It's just that the players aren't budding movie stars anymore. It makes for a better show in what
SNL
is trying to do - be an awesome sketch show instead of a Hollywood Training Ground.
Helen Mirren and Foo Fighters - this Saturday at 11:30 pm EST.