Well with the biggest shows finding their finales last week it's finally time to talk about this year in Television. There weren't all that many landmark seasons this year but it was certainly enjoyable. There were some significant ending series, about no significant beginning series and some continued greatness from every show that's great.
Goodbye Forever:
Anyone notice
Smallville
ending? When was the last time anyone watched
Smallville
? Maybe Tom Welling can have some sort of career some place now. We also lost
America's Most Wanted
, which means the FBI will have to resort to finding criminals on its own. So we're boned. Lastly Oprah, known for
Oprah
also bowed out this year, which means that heterosexual male lives everywhere will remain exactly the same. Honestly, does the absence of any of these shows really hurt anybody? I know that Oprah has a huge following for reasons that escape me, but daytime Television isn't that popular relative to anything else and besides, she's trading a single show for an
entire channel
. It's just not a big deal.
NBC has become the running joke of the year - they had more cancellations than anything else and just can't seem to find that hot show to bring them on par with ABC's
Dancing with the Stars
or FOX's
American Idol
. They've actually done well with
The Voice
, starring Christina Aguilera's Boobs, but otherwise they're putting out such fine programming as
The Event
and
The Cape
. This shit isn't even fun to joke about anymore. Yeah those were terrible. Woe to NBC as we also saw the departure of Steve Carrell from
The Office
, which means we saw the last somewhat watchable season of that show.
Hello, Forever!
There were no good new shows this year. CBS'
Mike & Molly
and
Hawaii Five-0
are probably the biggest freshman hits and it's typical that one's a cookie cutter Fat Comedy and the other's a basic CBS procedural. This is also the case for tons of Cable shows, I can't even name them all. There are a pair of shows that have pushed TV's envelope into awesome new territory, HBO's
Boardwalk Empire
and AMC"s
The Walking Dead
. The Golden Globes immediately recognized and nominated both in their first year and I'm sure the Emmys will follow suit next year.
Conan O'Brien returned to television this year with a Late Show that probably lies somewhere between
Late Night
and
The Tonight Show
. His appearance every night on TBS is actually legendary and is actually an accurate descriptor of the rapidly closing gap between Network and Basic Cable quality. It's just nice seeing him comfortable and putting out a very funny show that everyone can have fun with. Who the hell is watching Leno? On the topic of Late Night talk, Jimmy Fallon is coming on his own as well, with probably one of his better seasons so far.
Still Here, Eh?
I mentioned
this before
but
How I Met Your Mother
on CBS had one of its best seasons and possibly one of the best of the year. Some of the better episodes include "Subway Wars" (S6;E4), "Last Words" (S6;E14), "A Change of Heart" (S6;E18) and "Legendaddy" (S6;E19). They've pushed their characters in some brutal directions but it's all been pretty funny amidst a great amount of depth and growth.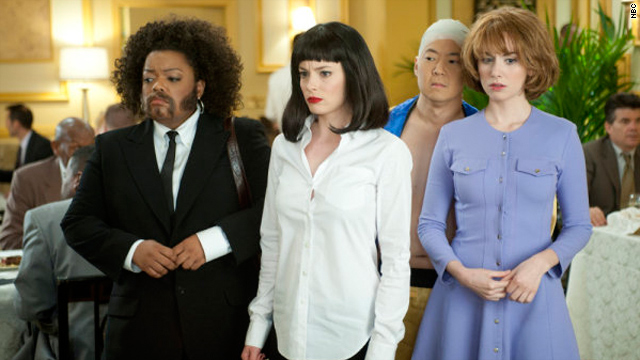 But the best episode of the year was probably
Community
's
"Critical Film Studies" (S2;E19)
along with what seems to have become an annual Paintball episode. I think the show's second season was weaker over all but the rising stock of
Parks and Recreation
is making up for it on Thursday nights. Actually that's about the only show I'm really enjoying on NBC these days,
30 Rock
has also declined greatly in quality.
South Park
's quality is also retreating as is
SNL
's, barring a few outstanding sketches. This was really the year of OK Seasons I think. Besides
HIMYM
and
Parks and Rec
I don't think a single repeating show I watch regularly did all that well.
This summer I'm looking forward to the conclusion of
Rescue Me
, the reappearance of underrated
Ugly Americans
and really having a few nights off from television watching. In general the continued fracture of attention has increased the prestige of appearing on Television. Also the increased availability of TV Shows on DVD and now through streaming services such as Netflix has rendered these programs a little more immortal. As this continues TV will continue to tell broader and grander stories across multiple seasons which should only increase the quality of our screens. It's a great time to watch TV. Now go see a movie this summer.