Once again folks we are looking back on the wonderful Year of 2011. It's fairly predictable what the Best Shows of 2011 were and Norwegian Morning Wood probably isn't going to give you any surprises. That said, we have a few superlatives here to get into.
Best New Drama:
It's incredible that HBO keeps doing this, but
Game of Thrones
delivers everything you could ask for - a compelling, intriguing plot, intense visuals, strongly fleshed out characters and a taste of a richly developed universe.
Best Episode: "Baelor"
Best New Comedy:
Somehow the most refreshing new series and one of the more enjoyable shows of the year has been FOX's
New Girl
, starring the ever-loveable Zooey Deschanel with an otherwise gang of generally traditional sitcom characters, but with a good amount of heart and genuine laughs.
Best Episode: "Bells"
Best Returning Drama:
Walter White has risen to new heights in this year's
Breaking Bad
, a show that seems to be outlasting its contemporaries like
Dexter
and
Mad Men
in creative flow. The whole series is a strikingly deep and addicting character study performed by an actor in Bryan Cranston who is suddenly getting noticed.
Best Episode: "Crawl Space"
Best Returning Comedy:
While shows like
Louie
,
It's Always Sunny in Philadelphia
, and
Community
had incredibly strong seasons this year,
Parks and Recreation
takes the cake as the smalltown, feel-good show of the year. It's emerged from both the shadow of
The Office
and
30 Rock
to become the best NBC has to offer, regardless of who is paying attention to it.
Best Episode: "Fancy Party"
Best Show to Return after a Ridiculous Amount of Years:
No, not
Charlie's Angels
.
Beavis and Butt-head
finally came back to us, with almost no change at all to its characters or structure. It's also been one of the more consistently hilarious shows on MTV or any station and somehow these metal-loving dudes seem more relevant than ever. Somehow.
Best Episode: "The Rat"
Best SNL Host:
There are always struggles, but Jason Segel and Florence + The Machine were a Muppet-filled delight this year. It's rare that a host is this game for masturbating on a Temper Pedic or getting the best laughs by impersonating Andre the Giant. It also starred a live talking frog.
Weirdest
: F/X is really plunging into the original series territory and with
American Horror Story
they've put up a bizarre show that has somehow sustained itself for at least one season (It helps that main characters can die and come back as ghosts without others noticing), but it's a unique concept show that struggles finding the right tone.
Best Episode: "Smoldering Children"
Most Disappointing:
The second season of
The Walking Dead
, while it had its moments seemed to spin its wheels more than anything, although the resolution to the entire season's storyline has tremendous ramifications for its cast of increasingly unlikeable characters. The aforementioned
Dexter
has also seemed to have collapsed and while
The Office
still pulls some funny moments, it needs to die pretty soon.
Best Episode: "Save the Last One"
Well, that Turned out OK
: One of the biggest storylines of 2011 was Charlie Sheen's very public departure from
Two and a Half Men
. It seemed like an insane choice to replace him with Ashton Kutcher but as it would seem, the Kutch brought both a refreshing stride to the show and some of the best ratings in its history. Way to go, Kelso.
Best Episode: "Nice to Meet You, Walden Schmidt"
Most Underrated
: I think that amidst CBS shows the style, heart, and character-driven insanity of
How I Met Your Mother
needs to be recognized. It's a solid show that has somehow flown under the radar for years and is now entering syndication. It is a very digestible show and has the potential to just be on in the background for years to come. That said, Ted just needs to find his wife already. This season was exceptional, though.
Best Episode: "A Change of Heart"
Best New Animated Show:
I can't get enough of the absurd, angry and educationally nerdy
China, IL
on Adult Swim. Brad Neely's mind has been successfully transferred to a freeflowing visual medium with catchy songs, insane predicaments and an impressively deep voice cast that includes Hulk Hogan and Jason Alexander.
Best Episode: "Prom Face/Off"
Best Returning Animated Show:
Also on Cartoon Network,
Adventure Time
is the single great Children's show of our age. It lacks the snark or meta-obsession of its contemporaries. It's also full of loveable characters, earnest fun and some wonderfully silly animation. It ran with its premise thoroughly in its second season, developing relationships and storylines while always putting silliness first.
Best Episode: "Memory of a Memory"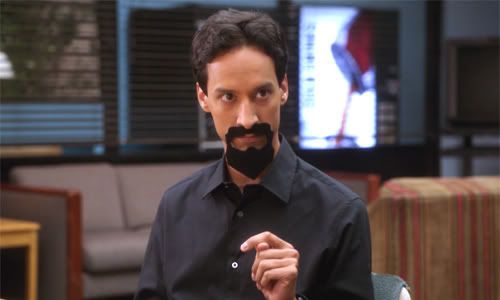 Best Episode of the Year:
Although
Parks and Recreation
has been NBC's more consistent show this year,
Community
's "Remedial Chaos Theory" was the best twenty-minutes of television put on screen this year. Read
this
over at the A.V. Club for a much more in-depth review, but it pulled off an unprecedented 7-timeline splintering of a relatively simple narrative allowing its characters to organically play off each other, sometimes for very homely results, other times unleashing a Dark Universe that just has to return before
Community
's inevitable cancellation next fall.
Well that's all of 2011's Television. There was also
Jersey Shore
, J. Lo on
American Idol
, Kelsey Grammar in
Boss
, every musician with a good career this year on
The Voice
, and finally, finally
Transformers: Revenge of the Fallen
(2009) on basic cable television. The world needed this. Here's to 2012!